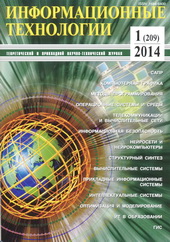 INFORMATION TECHNOLOGIES
(INFORMACIONNYE TEHNOLOGII)
Monthly theoretical and applied scientific and technical journal
ISSN 1684-6400
Recommeded by State Commission for Academic Degrees and Titles for publication of theses for the degree of Doctor of Science. Included in the database of the Russian Science Citation Index (RSCI).
The journal has been published since November 1995.

The journal Information Technology is one of the major national scientific and technical periodicals in the field of information technology, automated systems and application informatics.
The journal covers the current state and trends of the major thrusts in the development and practical use of modern information technologies in engineering, economics, medicine and education.
The main topics of the Journal:
Common questions of informatisation

Mathematical modelling

Computer graphics

Programming and CASE technologies

Computer-aided design and CALS technologies

Databases

Computer systems, networks and communications systems

Information security

Optimisation, design freeze and structural synthesis

Applied information systems

Intelligent systems

Neural networks and neurocomputers

Geoinformational technologies

IT solutions in economics, planning and management

IT solutions in medicine

IT solutions in education

Reference pages and chapters of history

Discussion board, information.
ADDRESS:
Editorial Board,
4 Stromynsky Lane,
107076, Moscow.
Journal Information Technologies published by New Technologies.
Director of publishing house:
Antonov, B.I.
Phone: 8-(499) 269-55-10; 269-53-97
Fax: 8-(499) 269-55-10 E-mail: it@novtex.ru